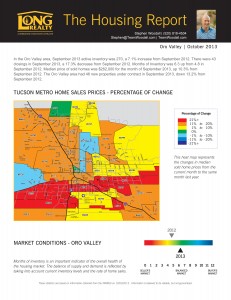 The October '13 Housing Reports are now online! Check them out here: http://teamwoodall.com/real-estate-information/local-housing-statistics/. This month saw the launch of a BRAND NEW format for the Housing Reports. This fresh look isn't purely cosmetic either as the Housing Reports now include the following new features:
Pricing Heat Map – A heat map that shows the area and year over year median price change.
Market Conditions Scale – Indicates if the current market is a buyer, seller or balanced market (based on months of inventory). compares to same time last year.
Home Sales – Shows YTD home sales as compared to YTD last year.
Properties Under Contract – Compares new properties under contract YTD vs YTD last year.
Mortgage Rates – Shows trend in 30 year fixed mortgage rates.
Monthly Payment – Shows what the monthly payment would be on a median priced home now, vs same time last year vs market peak (2006).
Price Banded Market Conditions – We've made a few improvements from old reports on this page. First, we've added a 3 month trend in months of inventory (MOI), in addition to current months of inventory. The trend is calculated by averaging active inventory for the last 3 months and dividing by the 3 month average in home sales. Second, we have added a color-coded market conditions description to each price band, whether that price banded in a sellers, slightly sellers, balanced, slightly buyers or buyers market – based on the 3 month trend in MOI.
Distressed vs Non Distressed – Shows the YTD percentage of distressed property sales vs YTD last year. Distressed includes both REO and short sales.
Market Performance – Compares YTD change in units and $ volume of Long Realty, the whole market and the average of non-Long Realty companies
Market Share – Shows a 12 month market share trend.
Enjoy these new Housing Reports and let us know your feedback on the new layout.