"I don't feel like much of anything. It all seems so repetitive. Not enough variety."
That was Stephen's response to my text about what I should get for dinner that night. Great. Cooking vegetarian dinners (my requirement) that two adults and two kids will eat just got harder, so when I heard an advertisement for Blue Apron on a Podcast the following week, including a code to get "three meals free on your first order," I was sold.
Note: Blue Apron calls a serving a "meal," so three free meals is really the equivalent of three servings, and there are 6-12 servings in a weekend package depending on how you order. Tricky. Basically I got $30 off of a $60 order.
How does it work?
Blue Apron sends you the recipes and all of the ingredients necessary to cook three meals per week. They have a 2-person plan and a 4-person plan, but the vegetarian option is only available for the 2-person plan, so I set up our first delivery for a weekend when we wouldn't have the kids. You can have the meals delivered on a Thursday, Friday, or Saturday, and they arrive on your doorstep in a large box with ice packs in the bottom to keep the ingredients cold.

The first round of recipes were very time intensive, and they called for a lot of ingredients I had never used before, so the recipes on paper did not look particularly appealing to us. I called up to Stephen after over an hour of prep including finely chopping what felt like an unending pile of vegetables, and announced, "I don't care if you like it or not, you're eating it! This is taking forever!"
In the end, all three of the recipes turned out to be very good. We were especially impressed with the taste of the fresh pizza dough, and the dumplings were amazing. Each recipe created closer to three servings rather than two, so we had leftovers. Seriously, the portions are huge, even for ultrarunners.
At this point, I cancelled all future deliveries (as far in the future as was possible at that time), not wanting to spend the full $60 anytime soon, but when I started getting the recipes emailed to me each week, as a teaser for the following weekend, I thought, why not just make them myself? Do I really need to pay $60 to have someone send me the ingredients? I mean, I have to spend over an hour in the kitchen to make it either way, so what am I paying for? Thus was born the following experiment.
DIY Blue Apron

First I took the three emailed recipes and manually entered them into my Pepperplate account online to make shopping for the ingredients easier. The Pepperplate app automatically creates a grocery list organized by department based on the recipes you would like to make from your library. This is just one of its many benefits. I also pull the recipe up on an iPad to follow while I'm cooking. Although entering the recipes into my account will save me time if I ever make them again, it cost me 15 minutes at this point.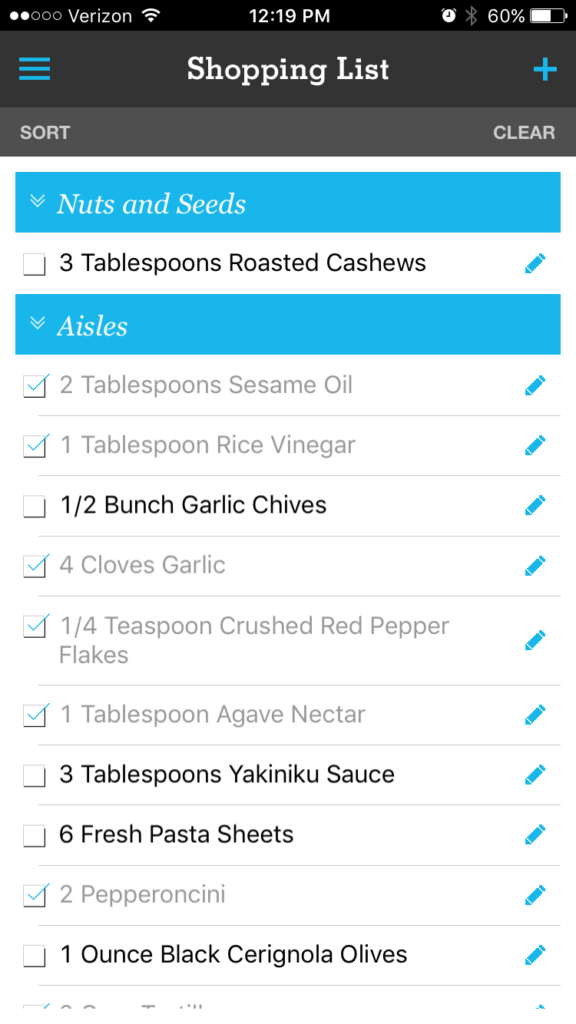 I went to my neighborhood grocery store first, Safeway, and ended up finding everything on my list except for seven items. I spent $55. Okay, fine, there will be leftovers of a lot of the ingredients, so I'm sure it will work out.
Then I went to the nearest Sprouts and found two of the remaining seven ingredients: Roasted Cashews (just the right amount from the bulk bins) and Semi-Pearled Farro. It didn't say "semi-pearled," but here's where my "stick to the recipe exactly for the sake of science" mentality started to fall apart. I just spent another $6.50, and it would have been $12.60 if I had bought Agave Nectar (which I had plenty of already), but there will be lots of this farro stuff leftover, so it's okay, right?
Since Whole Foods was just down the street, I decided to attempt the last five ingredients there, even though I prefer to spend my money wisely. Nope. They didn't have a single thing I was looking for. This further solidified my opinion that it's unnecessary to shop at "Whole Paycheck." I wasted five minutes there but at least was impressed by the great music. Stevie Wonder's "Superstition" and Cutting Crew's "I Just Died in Your Arms" had me bopping and mumble-singing through the aisles while I shook my head in disappointment.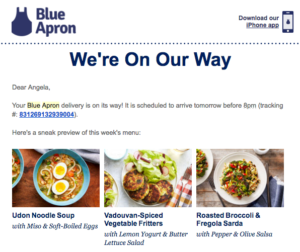 With all the ingredients necessary to make one of the three dishes that night, I called it a day and went home, determined to find the other five tomorrow. I had spent $62 and almost two hours of shopping/driving at this point.
When I got home, I got an email saying that Blue Apron had just shipped my next box! @#$%! Now I was about to have six recipes to make! Remember how I had cancelled future shipments as far in the future as was possible at that time? I've since set a reminder in my phone to prevent this from happening again.
The next day I tried AJ's fine foods and still couldn't find the last five ingredients. I could have travelled even further to an Asian foods market, but I decided to do the smart thing and look up substitutes.
I ended up with the following from Safeway:
-Rabe Broccoli instead of Gai Lan
-regular Chives instead of Garlic Chives
-Teriyaki Sauce instead of Yakinuku Sauce
-Boxed Manicotti instead of Fresh Pasta Sheets
-Black Cerignola Olives were eliminated. This was to top a salad, and I knew my patrons would not appreciate them, especially since at this point, I was going to have to make two of the six recipes on nights with the kids. I also wished I had not purchased the Red Pepper Flakes or Pepperoncinis the day before, since those would definitely not be going in a kid meal anytime soon. The escapade to AJ's and then Safeway cost me another hour and $8.50, so now we're at 3 hours of shopping and $76 of ingredients.
Tips for following their recipes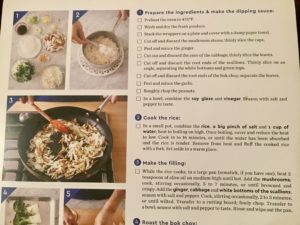 The three recipes which included my substituted ingredients all turned out fine, and in the process I nearly halved the time it took to make a Blue Apron recipe by doing the following: Don't follow the recipe. I mean DO follow the recipe, but just don't do the steps in order necessarily. Blue Apron has you chop up EVERYTHING in the first step, so you find yourself drowning in tiny bowls filled with chopped vegetables, wishing you had six arms and a Xanax and THEN you start cooking.
Instead, start with Step 2, which is where things actually start to happen. Just prep the ingredients necessary for Step 2, get it going, and then check out Step 3. Basically, prep the ingredients as needed. You will have plenty of time to prep the next set of ingredients while the current set boils, bakes, simmers, etc. The way they lay out their recipes is highly inefficient, but if you can stay focused and maybe cross things off as you do them, you'll save yourself a lot of time.
Another tip: Get your Olive Oil, Salt, and Pepper (not provided) out and leave them out the whole time. You will be adding salt and pepper "to taste" after seemingly every step.
How's the food?
At this point we have had nine Blue Apron meals, and they have ranged from good to excellent. Who knew mixing Pistachios, Meyer Lemon juice, Pecorino Cheese, Castelvetrano Olives, and Sweet Piquante Peppers together could make such a delicious topping? (sounded gross to me) I'm impressed with the variety and quality of the ingredients and the tasty flavor combinations. Stephen seems to have been hoping for the next great thing that he could eat night after night, and that didn't happen, but we have discovered quite a few new great dishes to break up the monotony of dinner.
The kids loved the salad made from Romaine Lettuce, Meyer Lemon, Parmesan Cheese, Mascarpone Cheese, and Olive Oil (the one I left the olives and pepperoncinis out of). I've never seen a 6-year old or an 8-year old so excited for salad before. We had a "tasting party" with small portions each of six different leftovers, and they approved of about half of them. That's an incredible batting average for baseball as well as for feeding children.
Conclusion: Is Blue Apron Worth It?
In total I spent $76 buying the ingredients for three recipes and three hours looking for them. I could have cut that time way down though if I had skipped Whole Foods and AJ's and gone straight to substitutes, but the unique ingredients are part of the appeal of Blue Apron. Another major drawback of buying my own ingredients is that there was a total of almost $48 of leftover ingredients, some of which is perishable and will end up in the compost. Of course, this experiment assumed I didn't have anything that I needed so I had to buy it all up front, and next time I will already have things like Sesame Oil, Rice Vinegar, and Farro on hand (although I still don't know if it's "semi-pearled").
So, is Blue Apron worth it? If you want more variety in your dinners without spending a ton of time looking for recipes and special ingredients, then yes, I think so. My plan is to have a weekend package sent to me every couple of months and then make the best of those recipes on my own in the future. Sure I could just search for recipes online, but the likelihood that I would have made any of these recipes on my own accord due to their "unique" ingredients is slim. Let Blue Apron push your taste buds to new limits!
You can see the breakdown of costs and leftover ingredients in spreadsheet form here.