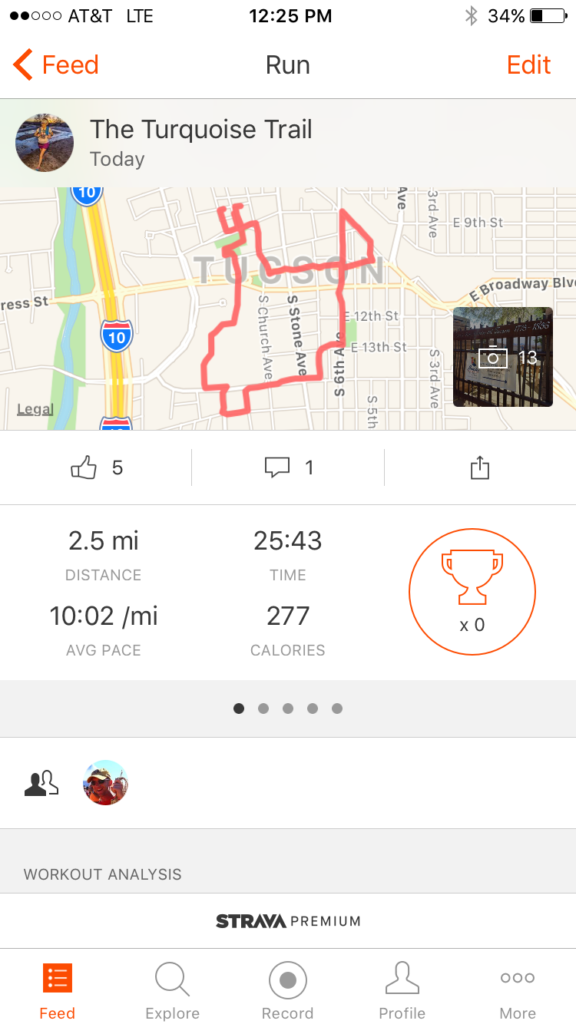 I've lived in Tucson my entire life, but other than what I learned in 8th Grade about Tucson and Arizona history, sadly I don't know much. Nor did I really care to, until I read Nancy E. Turner's historical fiction novel These Is My Words, written in the style of a young woman's journal in the late 1800s in and around Tucson. This brilliant book references Ft. Lowell, Hotel Congress, St. Mary's Hospital, Pennington Street, and other Tucson landmarks, some of which I had never heard of before, including "lung asylums" because Tucson was a mecca for tuberculosis treatment due to the "curative" powers of the sun. When I finished the book over just a couple of days because I couldn't put it down, I suddenly had a desire to know more about my city.
Googling up a storm, I came across the Turquoise Trail, which is literally a turquoise line on the ground that you can follow from historic landmark to historic landmark throughout downtown Tucson. Formerly called the Presidio Trail, I had always thought it was related to Monday's Meet Me at Maynard's running/walking path. In similar fashion, Stephen and I decided to liven the pace of our tour a bit and run between landmarks.
The trail starts at the Presidio San Agustín on the north end of downtown Tucson. We parked on the side of Church Avenue just after turning onto it from 6th Street. Parking here is free, so we pulled over right away and took an additional little walk through the cute homes on Court and Meyer Avenues. The Presidio is on Washington Street between Court and Church. Look for the turquoise circular "1" on the sidewalk near the gate pictured here.
Although you can pick up a map at the Presidio Museum or the Tucson Visitor Center, I just saved it as a photo on my phone in advance and zoomed in at each point to read about the location. Notice that there are some places described on the map that don't have numbers and therefore are not directly on the Turquoise Trail. If you want to get the full experience, make sure to look ahead for those landmarks and be willing to venture off of the trail a bit rather than just following it until you arrive at the next number on the ground.
The turquoise line meanders 2.5 miles through downtown Tucson, sometimes with very short distances between landmarks (mostly statues near each other). Each place has a placard describing the location and a similar description to read from the map. I suggest you read both, as they do have overlapping but also different information.
One of the highlights of the tour for me was discovering the location of Carillo Gardens, a place visited a few times by the characters in These Is My Words, and a place I had never heard of nor could imagine in historic Tucson. Carillo Gardens was Tucson's first public park, with 8 acres of lush landscape, duck ponds, a restaurant, saloon, circus, zoo, and live music, a festive place to hang out in the 1800s. We also visited El Tiradito which is a tucked away shrine dedicated to the victim of a tragic love triangle, and we saw a flag pole that has been standing since the 1700s. Given all of the massive amount of information imparted on this tour, it is definitely worth a second visit. Next time perhaps we'll slow down and walk it.