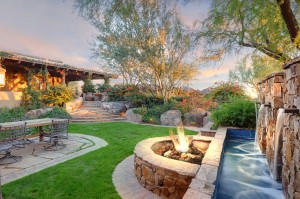 Q: What is the first step I should take in looking at buying a home?
A: The best first step you can take is to contact Team Woodall, and we can put you on the right path to exploring all of your options. After consulting with us we'll almost assuredly recommend contacting a mortgage professional to determine what your purchase qualifications might be.  For first time homebuyers we'll provide you with a wealth of information about the purchase process including looking at your particular scenario to see if buying a home is even the right decision to make.
Q: What resources are available online for me to find the perfect home?
A: Team Woodall is proud to offer many of the latest technology tools to help make your home buying experience convenient and easy! We offer a direct feed to the Tucson MLS for immediately updated listing information. Search the entire Tucson MLS by your own criteria or take advantage of our one-click quick searches by area, price, or type of property. In addition, you can set up your own portal to save searches or contact Team Woodall to have new and updated listings emailed to you daily that fit your search criteria. Plus, Team Woodall now has its own branded version of Long Realty's new cutting-edge mobile app. Download it here from your mobile device, or to learn more visit our Mobile App page.
Q: I'm looking to purchase a house. How much will it cost to have you help me find a home?
A: Nothing! In nearly every circumstance it's customary for the seller of a property to pay commissions to the real estate agents. Long Realty Company does charge a $199 fee at the close of escrow to every buyer, but with all the resources at your disposal courtesy of Long Realty & their Long Advantage program this nominal fee is money well spent.
Q: How much money will I need for a down payment on a house?
A: There are a multitude of mortgage programs available for a variety of buyers and types of purchases.  There are still some programs that allow for 100% financing (notably VA and USDA loans), and FHA insured mortgages are a large part of the market now which currently require a minimum of 3.5% down payment.  Conventional loans begin at just 3-5% down and often have more favorable terms over the life of the loan than an FHA insured mortgage. Most investment properties will require a 20% down payment, and jumbo loans typically require between 10-20% down as well. Vacant land purchases that are financed often need between 20-30% down at closing. A consultation with a mortgage professional is highly encouraged to explore all the options available to you, and Team Woodall can provide several references.
Q: What is a short sale?
A: A short sale occurs when the proceeds from selling a property will fall short of the balance of debts secured by liens against the property (mortgages) and the property owner can't afford to repay the liens' full amounts. Put even more simply it is when the home's market value is less than the amount owed on that house. Now, what does this mean to you as a buyer?
The biggest impact this has on a buyer is that you're really dealing with the lender making the decisions on the property since they're ultimately faced with deciding whether or not to accept less money than is owed on that property. Some properties are "pre-approved short sales" where the lender has made this decision and likely has already determined the home's fair market value through an appraisal or broker price opinion (sometimes multiple of these). In these situations a short sale may not be too much different than a traditional sale. However, a short sale that's not pre-approved (and even some that are) can ultimately take a lot longer to close. In many instances this can be months of waiting to hear back if an offer is accepted by the lender or not while you as the buyer wait without a home. Depending on the buyer's circumstances a short sale may not be a good property to pursue while for other buyers it can be a good idea to find a nice value when time isn't as critical. For more details please contact us.
Q: What is an REO property?
A: REO stands for real estate owned and may be more commonly referred to as a foreclosure home. REO properties are owned by a lender, most commonly a bank, government agency or government loan insurer, after an unsuccessful sale at a foreclosure auction. Put simply, when an owner can't make the payments on a home the lender may decide to foreclose on the home to try and get their money for the loan back. After the foreclosure is processed the home will initially be put up for auction, also known in our state as a trustee's sale. If the home doesn't sell at auction then the lender takes possession of the property and will put it on the market as an REO home. What does this mean to you as the potential buyer?
Foreclosure homes are usually fairly straight forward and won't differ too much from a traditional sale. There are a few differences though that are common in nearly all foreclosure situations. First, the property is very commonly sold "As Is" which means the lender won't make repairs to the property. In some instances repairs may be made or a credit issued for some repair amounts, but this is less common. Another common difference is that a lender typically doesn't provide the Seller Property Disclosure Statement (SPDS) which typically provides a buyer with important disclosures and information about a property's history. A third common difference with an REO property is that while the usual AAR Purchase Contract will be used to start the purchase process, the lender will use their own supplemental purchase contract documents too which vary by lender and are less standard. REOs are ultimately not too difficult to navigate though and should be an option to consider for most buyers, although in today's market they aren't always better values than a traditional sale.
Q: Why should I choose Team Woodall over other real estate agents?
A: First and foremost Team Woodall achieves results for our clients. Whether you're looking to purchase a home or are an existing owner wanting to sell your home, we bring a wealth of knowledge and experience that simply gets the job done. What really distinguishes Team Woodall is that we provide a level of service a notch above the rest and make the experience enjoyable as well. Another key benefit of using Team Woodall is our utilization of today's latest technology for our listings and for our buyers as well. By partnering with Long Realty, we've aligned ourselves with the #1 brokerage in town which conveys additional value to our clients as well. Long's Advantage program, Long Realty Cares Foundation, and plethora of additional tools & listings means you'll receive the best possible experience. Allow us the opportunity to speak with you and demonstrate our commitment to reaching your goals.
Q: Since Team Woodall specializes in Northwest Tucson can you help me if I'm looking elsewhere in Tucson or am unsure of where I want to live?
A: Absolutely! While the majority of our business transactions occur in Northwest Tucson and throughout the Foothills, we're extremely capable of helping you throughout the Tucson metropolitan area. We've chosen to live and work in Northwest Tucson and firmly believe it is a great place to purchase a home, but other areas of town appeal to different people. Our commitment to provide the utmost level of service and skill means we'll work on your behalf to achieve whatever your specific goals may be regardless of location.
Q: I'm searching for homes and I see properties listed as Active Contingent & Active CAPA. What do these mean?
A: These are status designations used by the Tucson Association of Realtors Multiple Listing Service (TARMLS). As a buyer the properties worth pursuing are those listed as Active. Other status types are less likely to be obtainable but can be watched for status changes. Here is a brief description of the different statuses that you may see on listings:
Active – Property is on the market with no mutually accepted contract, but may have an offer(s).
Active Contingent – Listing is under mutually accepted contract, which contains one or more contingencies such as an appraisal contingency, inspection contingency, etc. Permission is required to show these properties to other buyers.
Active CAPA – "Can Accept Purchase Agreement": Listing is under mutually accepted contract, and is to remain active. Seller has reserved the right to accept replacement offers as defined in the Purchase Contract.
Pending – Listing is under mutually accepted contract but has not yet closed escrow. These properties have had contingencies (inspection, appraisal, etc.) removed and are just waiting for the agreed upon closing date to arrive.
Q: In searching online I see references made in the listing description to a SPDS, what is that?
A: The SPDS is an acronym for Seller's Property Disclosure Statement. It's a very useful document that discloses a variety of information a Seller knows about the property which can include past and current defects, service providers, repairs and improvements made, and additional disclosures about the property and area. Per the contract this document must be provided to a buyer within three days of contract acceptance, although sometimes it's available for review when the home is listed. There are some cases where the document might be excluded from the contract by the Seller, most notably in most foreclosure properties and some estate sales where the current owners/trustees don't have firsthand knowledge of the home. It's also important to note that a buyer shouldn't rely too much on the SPDS for information because there may be defects with the property that are unknown to a Seller. Therefore, it's always highly recommended to perform independent inspections and investigate any matter which is material to a buyer's interest. Having said that, the Seller's Property Disclosure Statement is still a very helpful document that can provide a lot of information that aids a buyer in making a purchase decision.
Q: What is a BINSR?
A: BINSR stands for Buyer's Inspection Notice and Seller's Response. This document is used in Arizona residential transactions as the primary method of communicating notice to the seller of any items disapproved by the buyer before the expiration of the buyer's inspection period. In simple terms, it allows a buyer to: a) cancel a contract based upon the results of their investigation, b) accept it without any corrections, or more commonly c) ask the seller to repair certain items.
During the inspection period a buyer should complete all desired inspections (physical, environmental, inquiries with government agencies/lenders/architects, investigations of building/zoning/fire codes, termites, sewer, pool, etc.) and verify any other information deemed important to the buyer. Once this process is complete the buyer fills out the BINSR and delivers it to the seller before the inspection period expires. The BINSR has two categories with the first being items disapproved and the second being notice of non-working warranted items. Warranted items are addressed in the Purchase Contract in section 5 as items which the seller must maintain and repair all the way to the close of escrow. These items are the primary systems of a home such as heating, cooling, mechanical, plumbing, electrical systems, and built-in appliances. During the inspection period if any of these items are not working they can be noted on this section of the BINSR and the seller must repair these items. The disapproved items are additional repairs the buyer is requesting the seller make to the property. Upon receiving notice of these items disapproved by the buyer a seller may a) correct all of the items, b) correct none of the items, or c) correct some of the items. After receiving the seller's response the buyer can either cancel the contract or accept the seller's response and proceed with the close of escrow.
As you can see the BINSR is a key component of a residential property purchase and Team Woodall will help navigate this entire process with you. Understanding all of the components of this procedure allows a buyer to make informed requests and decisions. Crafting a reasonable set of disapproved items and providing that to the seller often proves more successful than asking a seller to make 100% of the corrections an inspection might identify. Having experienced agents at Team Woodall by your side makes all the difference.