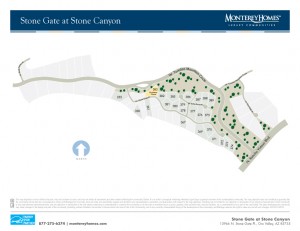 Higher-end production homes have come to Stone Canyon! Monterey Homes is building on 24 lots within Stonegate at Stone Canyon. This area of the community is a Tuscan themed neighborhood located just past the main entrance. Prior to Monterey's purchase of the remaining lots, the existing homes built have been two custom homes on Lots 487 & 488 and semi-custom plans built by Stonewest Homes in cooperation with the orignial developer.
Monterey will be selling four different floor plan models which range from 2,888 sq. ft. – 3,397 sq. ft. Base pricing on these homes begins at $649,900 for the
Ocotillo and ranges up to $680,900 for the largest Acacia. These base prices don't include lot premiums which currently range from $12,000 up to $100,000. The average lot size is approximately three quarters of an acre and goes up to about 1.2 acres for the largest. Monterey at Stonegate will include some excellent standard features including: 20″ ceramic tile in all the wet areas, 3cm granite countertops, maple or alder cabinetry with crown molding and staggered layout, stainless steel appliances, and a host of energy efficient features. Only a very limited number of homesites are available so don't delay in calling Team Woodall at (520) 818-4504 to arrange a visit. Before you visit this neighborhood be sure to allow us to register you as clients to protect our ability to represent you.
Ocotillo Floor Plan | $649,900 Base Price | 2,888 Sq. Ft. | 3 Bedrooms & 2.5 Bathrooms
Saguaro Floor Plan | $664,900 Base Price | 3,078 Sq. Ft. | 3 Bedrooms & 3.5 Bathrooms
Mesquite Floor Plan | $676,900 Base Price | 3,360 Sq. Ft. | 3 Bedrooms & 3.5 Bathrooms
Acacia Floor Plan | $680,900 Base Price | 3,397 Sq. Ft. | 3 Bedrooms & 3.5 Bathrooms
Standard Features List
Neighborhood Site Plan Lot List
Contact Team Woodall today by calling (520) 818-4504 or emailing Info@TeamWoodall.com and allow us to help you explore these new Monterey homes. Remember, it costs you NOTHING additional to use Team Woodall as your Buyer's Agent and we provide a wealth of knowledge about new construction & Stone Canyon. In fact, here's a recent quote from a new construction buyer client of ours:
"Thank you, once again for taking us through the entire process with such professionalism and the ultimate in support. We would not have made it without you!!" – Charles & Elaine