Background
A geographically diverse area, Marana encompasses nearly 120 square miles currently and continues to experience growth on all fronts since its incorporation in 1977. Bisected by Interstate 10, Marana offers convenient access to downtown Tucson which lies to its southeast. One of the fastest growing cities in Arizona in recent years, Marana's history as a farming and ranching community has melded with a more suburban lifestyle in many parts of the town. Marana's broad area ranges from the base of the Tortolita Mountains in the east to just north and west of the Tucson Mountains, while the town itself lies primarily in Pima County but does stretch just into Pinal County.
Marana Businesses
With its roots in the farming and ranching industries, Marana has developed primarily a wide network of retail and service industry jobs, however there are a couple larger industry employers such as Evergreen Maintenance Center at the Pinal Air Park and Sargent Controls Aerospace & Defense. Another recent major employer within the town is the upscale Ritz-Carlton resort in the Dove Mountain community, which plays host to the PGA Tour's WGC – Accenture Match Play Championship. The recent addition of this resort and the Match Play tournament provides a large influx of visitors to the area, helping boost Marana's economy while also garnering national television exposure during the tournament broadcast.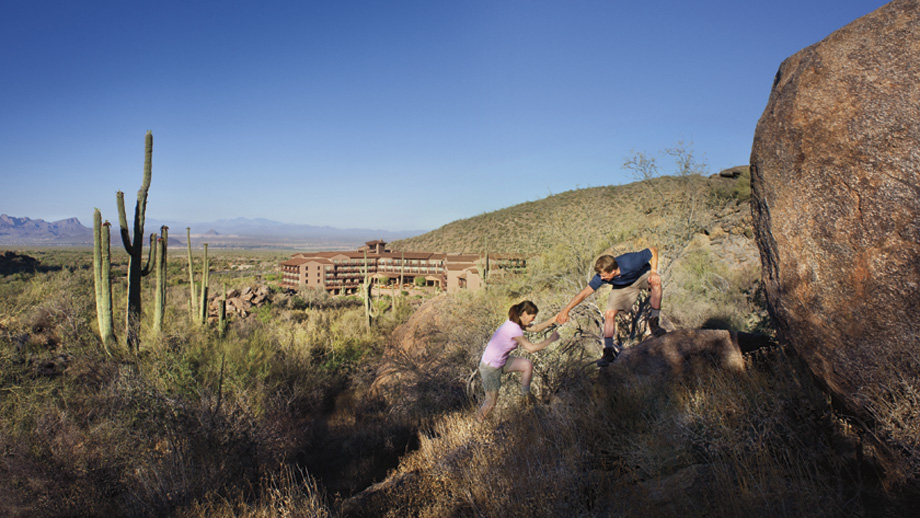 Lifestyle
Marana has seen much of its growth come from younger families taking up residence within the community according to published data. Like much of metropolitan Tucson, Marana boasts a more relaxed lifestyle indicative of the desert Southwest. Several larger planned communities make up a substantial portion of Marana's housing, including the areas of Continental Ranch, Dove Mountain and Gladden Farms area. The Continental Ranch and Gladden Farms communities in particular offer fairly extensive recreational activities in the way of numerous parks in and around the subdivisions.
Developing a reputation as a leisure and golf attraction, Marana is home to a number of area golf courses. Among them are three within the Dove Mountain community; the newest Ritz-Carlton Golf Club, the private Gallery Golf Club (36 holes of golf and former host of the Accenture Match Play), and Heritage Highlands. Closer to the town center lies the public Pines Golf Club, situated on part of an old quarry.
Statistics
The U.S. Census Bureau report from 2010 puts Marana's population at 34,578 with approximately 25% of the population under 18 years of age. Annual median household income is listed for the period of 2007-2011 at $70,705. View additional data on Marana at the U.S. Census Bureau's website.
For more information please visit the Town of Marana's website or contact us to begin your house search today!