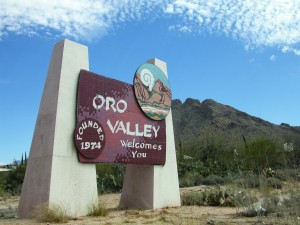 Background
Founded in 1974, Oro Valley is located on the Northwest side of Tucson. This emerging community features an impressive local business environment, ever expanding commercial centers, numerous recreation activities, and a stunning array of home choices. Continually ranked in numerous publications as one of the most desirable cities in the United States, Oro Valley boasts quite a pedigree for such a new town. Team Woodall also calls Oro Valley its home and has enjoyed the many opportunities afforded by the location.
Oro Valley Businesses
Leading industries present in Oro Valley include the bio-tech and health industries.
Ventana Medical Systems, a member of the Roche group, is the largest Oro Valley employer with an ever expanding campus located in the Rancho Vistoso Innovation Park. This local company is quite a success story and leads the way in automated staining platforms used by hospitals and clinics around the world to detect cancerous tissues.
Sanofi-Aventis, a long-time employer within the town, recently completed construction on an impressive new 110,000 square foot building in the Rancho Vistoso Innovation Park area. This high tech building was built under the Leadership in Energy and Environmental Design (LEED) standards set forth by the U.S. Green Building Council. Primarily a research center, this Sanofi-Aventis location continues its role in the bio-tech community and is proud of its Oro Valley home.
Oro Valley Hospital also resides in the Innovation Park area of Rancho Vistoso. This relatively new complex offers area residents exceptional access to quality medical facilities both in the form of emergency services and its adjacent medical office buildings. A part of the larger Northwest Medical Center family, Oro Valley Hospital provides a growing number of job opportunities within the Oro Valley region.
Many other businesses call Oro Valley home and range from local companies to major corporations such as Honeywell (technically in a small tract of unincorporated Pima County but surrounded by the Town). It's no wonder so many businesses choose Oro Valley as a business location, and recognition of this fact came in March 2008 as Fortune Small Business named Oro Valley #44 on its list of "Top 100 Places to Live and Launch" a business.
Lifestyle
It's not only the business environment that is being recognized and awarded in Oro Valley as several publications have hailed the town lifestyle among the best in the nation. The August 2008 issue of Family Circle magazine featured Oro Valley as one of the top ten best towns for families in America. More recently Businessweek ranked Oro Valley as one of their "Best Places to Raise Kids" in 2013. Other distinctions have come from Money magazine which rated Oro Valley as one of the best places to live in both 2007 & 2008. These distinctions come because of the great cultural and recreational environment within the town, and it's highly regarded school system has received numerous accolades as well throughout the years. A new BASIS charter school opened in the fall of 2010 which further establishes the high standards of Oro Valley's educational environment.
A huge influence on the lifestyle of the town is the scenic vistas from nearly every part of the town. Dominated by the gorgeous Pusch Ridge area of the Catalina Mountains, these views characterize the beauty of this exciting area. To the north side of the town are the Tortolita Mountains, and city views of Tucson toward the south await as well. Oro Valley's commitment to match the natural beauty of the area is apparent by its visual design requirements for residences and its support of the arts, requiring all commercial buildings to devote a percentage of construction costs specifically to exterior art. Nestled between the mountains and with adjacent state land on many of its perimeter locations, Oro Valley has a large and diverse wildlife population which can be seen on a relatively frequent basis.
Recreation opportunities abound throughout the town from its multiple renowned golf courses to its local and state parks within the vicinity. For golfers across the country Oro Valley is becoming a destination, from the Top 100 exclusive private facility The Stone Canyon Club and Oro Valley Country Club, to the mixed use and daily fee courses such as The Golf Club at Vistoso, El Conquistador (36 Holes), and Sun City Vistoso. The town's many parks offer recreational activities from tennis, swimming, basketball, baseball, volleyball, and open grass areas for other recreation. Also conveniently located adjacent to Oro Valley is Catalina State Park which hosts many miles of hiking opportunities throughout the Catalina Mountains.
Statistics
According to the 2010 U.S. Census Bureau estimate, Oro Valley's population has reached 41,011 and boasts a median household income of $71,561 for the period of 2007-2011. With an estimated 20,340 housing units, many opportunities for home ownership nearly always exist. It's safe to say the Oro Valley Police Department is highly regarded and statistics back up this assertion. From 2001 – 2006 FBI statistics rated Oro Valley #1 in either the lowest violent crime or lowest property crime, or both as in 2006, among Arizona cities over 5,000 people. For more statistical information see the U.S. Census Bureau's estimate.
For more information about Oro Valley you can also visit the Town of Oro Valley's website. If Oro Valley sounds like the right fit for you, please contact us and we'll be more than happy to assist making Oro Valley your new residence.