The Tucson area offers a huge assortment of activities for those who love the outdoors. The city is widely recognized as a mecca for both road cycling & mountain biking, receiving many different "Best of" or "Top 10" awards. It also has a very active running scene too with dozens of events put on throughout the year ranging from 1 mile kids fun runs, to 5Ks, half marathons, and all the way up to ultramarathon 50 mile events. In fact, if you're into trail running or ultras you can visit our running blog at Running.TeamWoodall.com as we're avid trail runners. Hiking is still one of the most popular activities though for residents and visitors alike. Below we've highlighted a few great resources for those that are interested in exploring the Sonoran Desert through these types of activities.
Mountain Biking – Trails exist throughout Tucson that are perfect for beginners and challenging enough for even the most expert of riders. A great resource to begin exploring these trails is the MTBProject Website's Tucson Trails Guide. There's also an app available that's ideal for use on your smartphone as it integrates with your phone's GPS and overlays your position relative to local trails. One recommendation we have for beginners is the Honeybee Canyon Loop in Rancho Vistoso. Another avenue for learning more about the MTB community in Tucson and seeing a few trails is to watch this Singletracks Trail TV video published in 2017 that highlights some popular biking spots.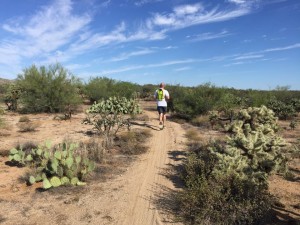 Running – Running is a passion for Team Woodall so if you're interested in the Tucson running scene please feel free to contact us directly via phone as we can impart a lot more knowledge than is written here. You can also check out our running blog/website at Running.TeamWoodall.com and follow along with our adventures. The biggest running organization in town though is the Southern Arizona Roadrunners. They put on a huge variety of events every year all across town. Most of these are 5K – 8 Mile runs and they also have a FitKidz series for children too. While they do offer a few shorter trail races, the majority of their schedule are road races, with the longest being the TMC Get Moving "A Mountain" Half Marathon. Check out their current race schedule and past event results here.
There are other promoters of running events in town including Everyone Runs, Everyone Walks which organizes the second most events in town. Two other very popular events are the Arizona Distance Classic in Oro Valley that includes 5K, 10K, and half marathon options and the Tucson Marathon which is a Boston Marathon qualifier. Beyond that there are numerous other individual events organized by smaller groups. Again, please contact us directly if you're interested in further details about any of these running events.
Hiking – Many of the mountain biking trails and running websites above will also provide good information for those looking to hike. However, we also wanted to feature a few locations that are ideal for hiking. Here are just a few options: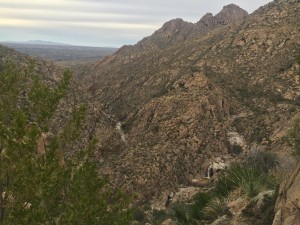 Catalina State Park – Catalina State Park is the closest option for those in Oro Valley as it's located just east of Oracle Road across from the Oro Valley Marketplace. The park's road entrance is located right across from the Oro Valley Marketplace. There is an entry fee of $7 or frequent visitors can buy an annual pass for around $75. There are a number of different trails at Catalina State Park but the most popular are the Canyon Loop Trail (2.3 miles), Romero Pools (5.5 miles), Nature Loop Trail (1 mile), and Birding Loop Trail (1 mile). All of these are accessed by driving into the park and continuing on the main road all the way back until it dead ends into a fairly large parking lot by the trailhead. The trails and any junctions are well marked so there shouldn't be any concern with getting lost.

The Nature Trail is a short loop trail that starts up a pretty steep hill and then is fairly flat afterwards, just rolling through the desert. There are signs along this trail talking about the various desert wildlife. It's pretty much all single track hiking on this trail. The Birding Trail (not to be confused with the Bridle Trail that leads to the horse corral) is another loop trail of 1 mile that begins heading the same direction as the Canyon Loop (if starting counterclockwise) and once over the first wash/stream heads to the right. It's a bit more low lying than the Nature Trail and is only recommended if doing both the Nature & Birding together for 2 miles total.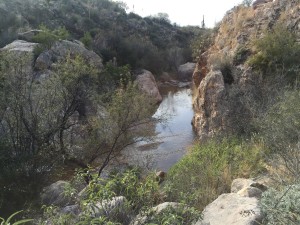 Easily the most popular trail is the Canyon Loop Trail since it's only about 2.3 miles which is a comfortable hike where you won't need to worry about gear, although it's always advisable to bring water. You can head either clockwise or counterclockwise and there are two different trailheads, one for each direction. We'd recommend going clockwise if the washes have water from monsoons or snow melt as it can be difficult/impossible to keep your shoes dry on the major wash crossing that you must go over if you head counterclockwise. It's better to cross that at the end so even if you do get wet you won't be wet for as long. To reach this clockwise trailhead from the parking lot head to the entry road, turn left, and follow the paved road all the way to the end as if you were going to circle the small paved loop that's at the end of the road. You'll pretty much run straight into the trailhead (the Nature Trail is just to the left of this one) and it will start out flat for a while. There are about 4 stream crossings on this route but you can hop on rocks across them fairly easily, except for the last one was previously mentioned. There are a few benches along the trail and only one fairly steep stair climb about halfway through which offers a nice view at the top. The rest of it is very pleasant and a pretty easy hike with much of it being double wide trails where you can easily hike 2-3 people wide.
The last option at Catalina State Park is the Romero Pools option. This trail continues on for a while but most people stop at Romero Pools. It's not a loop trail so you can go out as far as you'd like and turn back whenever you're ready. It's absolutely a much more difficult hike and you'll gain a lot of elevation heading up to the pools but the views are also more captivating. There are a bunch of rocks which make it pretty difficult to run but it's not too bad for hiking. To head out on this trail the shortest option is following the Canyon Loop Trail counterclockwise (might be worth taking off shoes when crossing that wash to avoid wet feet all day) and you'll come to a junction after about 0.6 miles where you'll veer to the right following the signs for Romero Pools. After another ½ mile you'll reach a junction where you can head to the right down a short distance to Montrose Pools or left up to Romero Pools. It's at this point the trail becomes substantially steeper, rockier, and single track. For anyone who's in reasonably good shape it shouldn't be too difficult but more challenging than the other trails. Depending on how far you head up it's probably a good idea to bring a backpack at least with some water, snacks, etc. and possibly a headlamp/flashlight if you'll be out close to dark.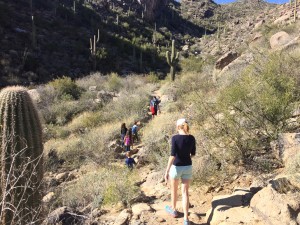 Dove Mountain – To reach this trailhead take Tangerine road west from Oro Valley towards the freeway and turn right (north) on Dove Mountain Boulevard. Follow Dove Mountain Boulevard around for many miles until eventually you turn right on Secret Springs Drive at a roundabout, heading towards the Ritz Carlton. There are also some brown signs for the Wild Burro Trailhead which are easily seen too. Just tell the gatehouse that you're going for a hike at the trailhead. After passing the gatehouse the trailhead parking lot will be your 3rd right and turn into the dirt parking lot. There's a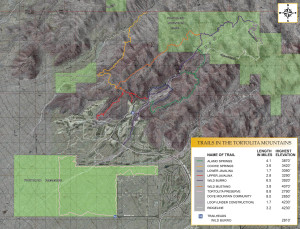 bathroom at the trailhead and the path starts just to the left of the ramada there, heading downhill. You'll start out on the Wild Burro Trail for about 0.6 miles and there you'll reach a major trail junction with a log book & signage. From here there are many different trail options. The map to the right shows all of these different trails which are color coded for added ease of navigation. One of the shorter yet scenic trails is the Upper Javelina which routed to finish out using the Hotel Spur trail that exits out right at the front of the Ritz Carlton. These hikes overall are much rockier than what you'll find at Catalina and do have some elevation gain too. The only major exception is the Wild Burro Trail because that follows more of the wash than the other trails so it's overall flatter and sandier, but it still has some steep sections that are not in the wash. This wash typically doesn't have flowing water unless it's during a monsoon rain, so no worries about getting shoes wet. There a lot of varied hiking options at Dove Mountain and enthusiasts can go for a short or longer hike depending on your goals that day. If it's a hot day especially I would consider taking water and some snacks if you do one of the longer trails. There are some gorgeous views and enough trails to enjoy for several days of hiking.