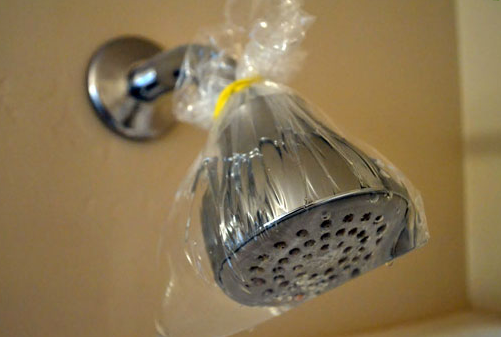 Over time calcium deposits will build up on your shower heads and either completely restrict the flow of water through some of the spouts or reduce the volume to a drip. One simple way to get rid of these deposits is soaking your shower head in vinegar.
If you can easily remove the shower head then simply unscrew the head from the stem. If your shower head isn't easily removable, use a large ziplock bag, fill it part way with vinegar and tie a string or a rubber band to hold it in place. Then follow the same procedures.
Soak it in a bowl/bucket of vinegar for at least 30 minutes or up to several hours. *Note: vinegar typically won't damage most finishes, but always test this first*
After soaking the shower head, remove it from the vinegar and rinse with water.
Then use an old toothbrush and scrub away any excess residue, before rinsing it once again.
Read other blog posts about home maintenance tips: