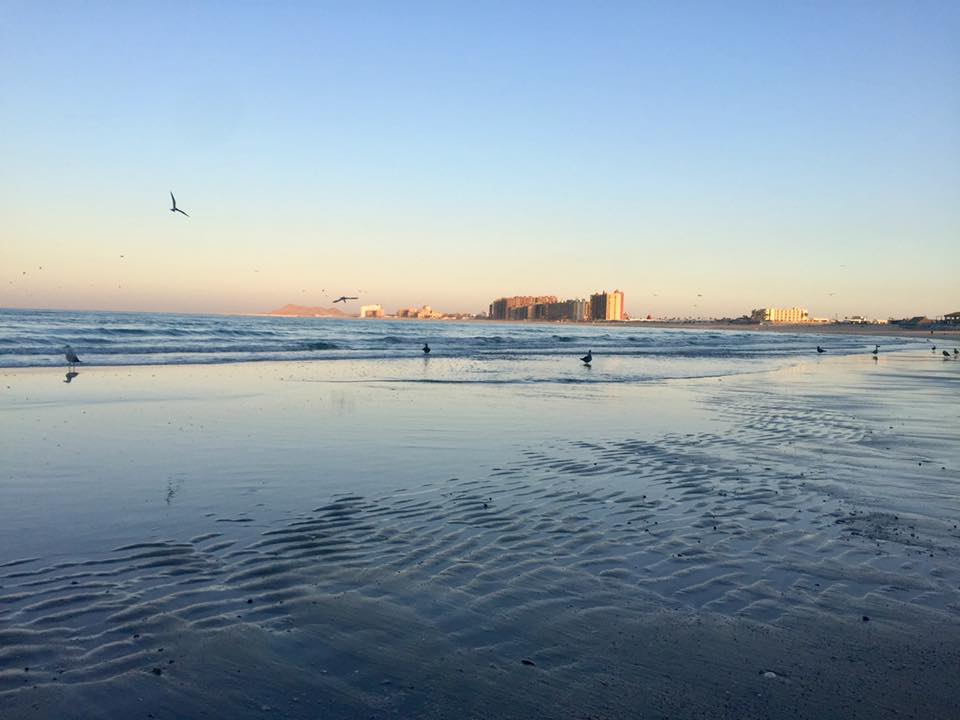 You won't find any beachfront property in Arizona, save the shores of the Colorado River in Lake Havasu perhaps, yet we Arizonans love to beat the heat with a nice trip to the ocean once in a while. A six hour drive away, San Diego is probably the most popular destination for this, but we have an even closer option, albeit in a different country, with Puerto Peñasco, México being only four hours away.
A Little History
Puerto Peñasco translates to Rocky Port, though we call it Rocky Point. It was given the name Puerto Punta Peñasco (Port Rocky Point) in the 1930s when a railroad and fresh well water finally established it as more than just an area for itinerant fisherman. Eventually the Mexicans dropped the Punto (Point) while the Americans dropped the Port (Puerto). Oops. Nowadays Rocky Point is home to about 60,000 people, many of whom are from the United States and other retired expats.
Rocky Point is not a particularly historic destination filled with Mayan or Aztec ruins like many places further south in Mexico. Keeping in mind its fairly young history, don't plan on visiting any museums or climbing any ancient pyramids, but do plan to enjoy good food, relaxation, and some fantastic beaches. Located at the top of the Gulf of California which is between the Baja Peninsula and mainland Mexico, Rocky Point's primary industry is fishing. We saw upwards of 20 fishing boats at a time out in the water for most of the day. It's also a very arid place being in the Altar Desert, so it doesn't have that humid ocean feel or smell, at all.
Getting There
The easiest way to get to Rocky Point from Tucson is to head south on I-19 and take Ajo, which is Highway 86, to the west. It's a two-lane road with little to see along the way. You do pass by the base of Kitt Peak where you can easily see the observatory perched up top. When you get to Why, Arizona, take a left (south) onto AZ-85. This means you will not go through the town of Ajo. The next stretch goes through Organ Pipe Cactus National Monument, taking you to Lukeville at the international border.
You do not need to show a passport to enter Mexico, but you'll need it on the way back. You'll also need Mexican car insurance which is in addition to your standard car insurance. You can buy it online for the amount of time that you'll be in the country. We went through our friend Don Cox with Farmer's Insurance. He took our info over the phone, emailed us the paperwork to sign, scan, and email back, and we had it all taken care of in about an hour with the added peace of mind knowing that we were getting it from someone we trust and someone who would have our back if something happened while we were there. His rate was right there with what I found online, about $50 for the three days (it's by the hour, not the entire day).
Once you cross the border, you will be in Sonoyta, Mexico, which is a small border town with excellent signage pointing you towards Puerto Peñasco. No need for a map. You won't get lost. Just follow the speed limit, which is low and in kilometers. In fact, follow ALL of the laws while in Mexico if you want to stay out of trouble. Once you're out of Sonoyta, the speed increases, though not as much as you may like. You'll notice the signs are riddled with bullet holes. Not exactly a welcoming trait. It's recommended that you avoid driving at night, which I can understand in this open stretch of land, but there were plenty of cars going both directions during the day time, and we didn't have any problems. This area is safer than most areas of northern Mexico for tourists, so don't stress about it. You'll be on this same road all the way into Rocky Point.
Sandy Beach
Perhaps the most popular of the beaches in Rocky Point is Sandy Beach, lined with high rise condos, many of which are currently under construction as it continues to grow. Sandy Beach sits at a short distance from the rest of town, with a golf course found immediately behind the condos, and nothing but desert behind that, save one single modern windmill, generating some electricity for an unknown entity alone in the desert. The beach is vast, mostly free of rocks, and shallow for a long way out to sea. There are few areas that are rocky, and you may spot a live crab or other sea creature in them. Seashells are very common, and you won't get tangled up in any seaweed. All in all, this is a great beach, much better than those of southern California.
Look west towards the end of Sandy Beach and you will find a long man-made structure jutting out into the water, consisting of enormous cement blocks piled on top of each other. This is the future port for cruise ships, expected to be up and running in 2018. Currently sitting in what feels like a very isolated spot, the bar and restaurant Wrecked at the Reef is situated right at the end of this dock. We had amazingly fresh fish and chips there while sitting outside with our feet in the sand under a palm frond umbrella among a plethora of seating options for groups of all sizes. It was a weekday, but you can tell that this place is hopping during high season, with its beach volleyball court, sports bar feel inside, area for live music and dancing, fire pits, and outdoor games.
Playa Hermosa
It's about a 3.5 mile walk along the beach from Wrecked at the Reef and the future cruise line hub to Las Gaviotas Condominiums where the beach meets the town. Somewhere along this walk, Sandy Beach transitions to Playa Hermosa where the condos are located. We were very happy with the accommodations and especially the location. Walk one direction and you're headed down the beach towards the high rise condos. Walk the other direction, and you're in town, likely to get ice cream at the Thrifty just a block away. The condos had secured parking and a guard on duty 24 hours to open and close the gate for you. The only time I had to speak Spanish the entire time I was in Rocky Point was to speak with the guard when we first arrived in order to clear up confusion about getting our key which was not there due to a miscommunication. Our condo was older than all those high rises, but plenty sufficient for a great stay.
Calle 32
Head North to Calle 32 and you'll find the "Rodeo Drive" of Rocky Point. This tourist destination is a single street lined with shops and a few restaurants. It was surprisingly relaxed compared to the other major tourist attraction in Rocky Point, Old Town or El Malecón, or as our American waitress called it the first night, Downtown. None of the vendors came out to try to sell us their wares on our way to lunch on Calle 32, and a lot of what they had out for sale looked like high quality crafts, not just tourist junk, although there is plenty of that too. We ate at Mariachis y Tequila, a highly rated restaurant on Yelp that felt pretty authentic though the clientele was exclusively retired Americans. The bartender who seated us did not speak much English, but the waiter did. The food was pretty good but not amazing.
El Malecón
The "downtown" area of Rocky Point is situated southeast of Sandy Beach on a small peninsula next to the port. This is where the fish market is located. We drove through the main drag and were immediately accosted by men trying to entice us to eat at their restaurants, but we kept going, to the far end, where we parked and ate at the Satisfied Frog, a restaurant that is also highly rated on Yelp. It's an amazing location, with large windows looking right down onto the coast below where you can watch seagulls and pelicans do things that sea birds do. The view of the ocean and the high rise condos of Sandy Beach in the distance make up for the average food, a mix of Mexican and American fare. The best item we had was the cheeseburger which was raved about on Yelp by many people. They were correct. It was fantastic.
Las Conchas
Another area of Rocky Point worth knowing about is Las Conchas, which is the gated community of homes along the beach, primarily owned by Americans. I've stayed there before, and it's quiet with a fantastic beach, but if you want to get to bars and restaurants easily, it may make sense to stay closer to town, on the east end of Sandy Beach, because a stay in Las Conchas requires a drive anytime you need something. Las Conchas is also home to the CEDO Institute (Centro Intercultural para el Estudio de los Desiertos y Oceanos) which has a free nature talk at 2pm on Tuesdays.
Although we arrived in Rocky Point unsure as to what to expect, we left feeling refreshed and expecting to come back in the future. If you're hankering for a trip to the beach, definitely consider this hospital Mexican town!